NotNeutral 3oz Espresso Cup + Saucer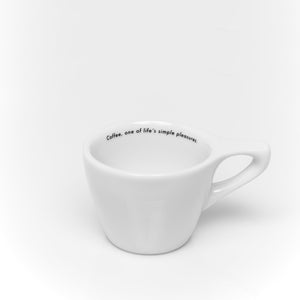 Product image 1
Product image 2
Product image 3
Product image 4
Our first ever Vigilante Coffee Espresso Cup aka "Demitasse" - which is french for "half cup." Perfect for espresso or a macchiato or even just a small hit of coffee - at 3oz this cup + saucer makes a great addition to your coffee vessel collection.
"Coffee, one of life's simple pleasures." Adorns the inside rim, the coffee head logo greets you as you finish your last sip + the saucer with the Vigilante Coffee logo. 
A cup we've been looking forward to designing for many years. Honestly, it's our favorite cup to date. Created specifically for enjoying specialty coffee. 
Sip & savor in these delightful little cups!