Colombia Peach Maceration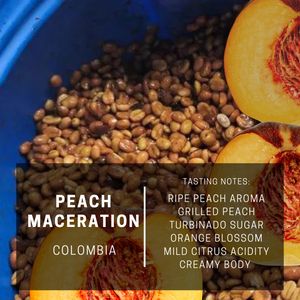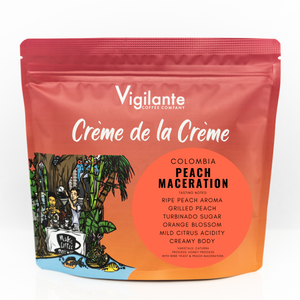 Product image 1
Product image 2

Like peaches? Get ready for a peach bomb of a coffee! This Colombian grown coffee is at the forefront of unique flavor experimentation. This coffee was processed with ripe peaches, resulting in a wonderful bouquet of ripe peach flavor and a syrupy, juicy, vibrant cup that will have you licking the cup clean. This is the closest you'll get to a strong peach tea that's actually coffee. Hailing from the innovators over at Cofinet, who were the masterminds behind previous offerings such as the Ice Fermentation, Rafael Amaya, and Norbey Quimbayo. This particular coffee was produced by Jairo Arcila, a third-generation coffee farmer who also grows subsistence and cash crops on the several farms that he manages with his two sons in western Colombia. The experimental processing technique used here starts with ripe Caturra varietal coffee cherries that have their skins removed, leaving the pulp of the fruit attached to the seeds. These were then added to a tank with white wine yeast and ripe peaches and fermented without oxygen for 72 hours, pulped to remove the remaining fruit flesh, and set to dry on raised beds with fresh peaches until the ideal moisture content of the beans was achieved.
How It Tastes:
This is the closest you'll get to a strong peach tea that's actually coffee. As soon as you open the bag the peach aroma hits you straight away, and only continues to evolve and fill the room as you grind the beans and start the brewing process. Often with coffee the aroma and the flavor experience may not quite match up, but this is not the case here. Sipping this coffee is reminiscent of peaches and cream - sweet, balanced, tangy without being tart, and creamy smooth. Enjoy the warm memories of summer fruit harvest as we fade into the cooler climes of fall!
How to Brew It:
This coffee will perform best as a pour over (hot or iced) or with an immersion method. For a classic heavier Vigilante style brew, brew with a ratio of 1:15, or for a more tea-like experience, try 1:16 or 1:17 coffee to water ratio. Brew water temperature should be between 200 and 205 degrees.
CountryColombia
RegionQuindio
FarmSanta Monica
Altitude1450 Meters
VarietalsCaturra
Production MethodHoney Process with Wine Yeast & Peach Maceration
Roast LevelLight
Peach Maceration
Colombia
Tasting Notes
Ripe peach aroma
Grilled peach
Turbinado sugar
Orange blossom
Mild citrus acidity
Creamy body