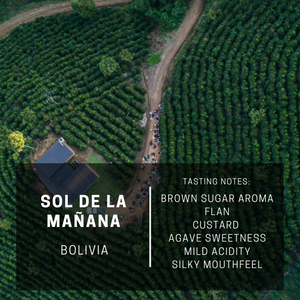 Product image 1
Product image 2

Returning for a 3rd year is finca Sol de la Mañana, except this harvest they've outdone themselves with a beautiful washed anaerobic Peaberry coffee.
Bolivia - a diverse and beautiful tapestry of climates, cultures, food, and people. AGRICAFE is a clear leader in their aim to promote and elevate the quality of the Bolivian specialty coffee production scene. In 2019 they won the Sustainability award from the Specialty Coffee Association, and in 2022, the Rodriguez family and Alliance for Coffee Excellence (who organize and host the national and international Cup of Excellence competitions), partnered together for a special auction of these prized Bolivian coffees.
Sol de la Mañana is a community consisting of coffees from 100 smallholder farms in the Caranavi province. We've had coffees from Sol de la Mañana over the past few years - but this lot is different in that the beans are "peaberries," a washed processed combined with anaerobic fermentation. For those that don't know - a typical coffee cherry produces two seeds ("beans"), each generally rounded on one side, and flat on the other side, where the two seeds face each other within the cherry. Every so often, coffee cherries will only produce one seed - typically smaller, and more sphere-like - the "peaberry". These beans are prized by roasters because they roast more evenly, being of a more uniform, rounded shape. The result is a deliciously sweet and very drinkable roast, with aromas of brown sugar and flavors reminiscent of Flan - caramel, custard, and 
b
rûléed sugar, delivered in a silky smooth & tea like mouthfeel.
CountryBolivia
RegionCaranavi/La Paz
Altitude1450-1650 Meters
VarietalsCaturra, Java, SL-34 and Bourbon
Production MethodWashed Anaerobic
Roast LevelLight
Tasting Notes
Brown Sugar Aroma
Flan
Custard
Agave Sweetness
Mild Acidity
Silky Mouthfeel