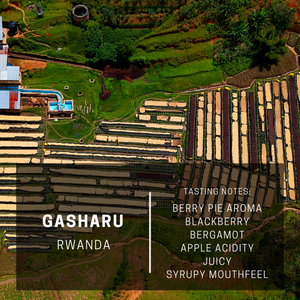 Product image 1
Product image 2

Product image 3
Product image 4
Gasharu is in the Western province of Rwanda, located in close proximity to the Nyungwe National Park, which lends itself to naturalized habitats for flora & fauna, benefiting the coffee trees here. Gasharu coffee is grown by a community of small shareholder farms that grow 100% bourbon varieties. Gasharu's mission is to have direct relationships with a wide network of roasters that want to make a difference at origin. For our first featured coffee from this direct source relationship we wanted to select a coffee that would jump out of the cup with juiciness. The Natural processed Gasharu is the coffee we were looking for, just bursting with flavor. Berry pie aromatics, blackberry, bergamot, crisp apple acidity, juicy, and syrupy till the last drop. 
The specialty coffee scene in Rwanda is relatively new, just like the specialty coffee scene here in America, originating in the late 90's and early 2000's. In 1994 the Rwandan genocide occurred at the same time that the world coffee price drop crisis was happening. This was devastating for the coffee economy of Rwanda. It took until the early 2000's for Rwandan coffee to make its way back to the world stage. This time with a new focus on high end specialty coffee. The coffee began landing in coffee bars from Melbourne to San Francisco. Blowing away pallets from coast to coast. Today, coffee is Rwanda's largest agricultural export, and the second largest exported goods.The Rumenerangabo family got into the coffee trade in 1976. Their story is nothing short of stunning, you can read the entire article here.
The goal at Gasharu Coffee is to be a model for farmer-owned coffee businesses, bringing the highest quality coffee from farm to cup. By focusing on quality these small shareholder farmers can earn top prices. Working with upwards of 1,650 farmers from 12 main coffee village farms, Gasharu is able to employ over 320 workers from the local community during peak harvest. Gasharu coffee promotes sustainable farming philosophy that integrates good production practices with environmental preservation, community sensitivity, and long-term coffee viability.
CountryRwanda
RegionNyamasheke; Western province
FarmSmallholder Farms
Altitude2000 Meters
VarietalsBourbon
Production MethodNatural
Tasting Notes
Berry Pie Aroma
Blackberry
Bergamot
Apple Acidity
Juicy
Syrupy Mouthfeel